Last edited December 29, 2021.
Introduction
Over two years of creating Plot Twisters together, our community has emerged a unique culture for communicating our feelings, expectations, and roles with each other. The Plot Twisters Storytelling Cards embody the fundamental elements of this culture. Designed to be emotionally literate and values sensitive, the deck contain 48 cards divided into four suits: Feelings, Needs, Ways of Caring, and Structures. Currently, members of our community play with these cards to reflect on life together and build trust prior to making serious commitments to shared projects, creative work, or resource exchange. We also expect these cards to be the basic units of the Plot Twisters game world and are in the process of developing a "playbook" for gameplay scenarios.
← Back to Homeroom
CuriosityAttentive, intrigued, refreshed, energetic
AnxietyInsecure, discouraged, tense, vulnerable, fearful
ConfidencePositive, trusting, secure, unbothered, clear
SadnessHeartbroken, hopeless, depressive, disappointed
Goal of the deck
With the stewardship of the Governance Archaeology cohort, we honed the main goals of our cards. First, they must facilitate the exploration and expression of each person's unique values, as well as the setting of expectations based on those values. In addition to contextualizing our overarching values, members should be able to use the cards to make connections between their lived experiences to articulate values unique to their circumstances and relationships. Lastly, the way our cards are used and disseminated must be flexible enough to be used as both a preemptive and reactive intervention.
To choose a tangible medium for conveying our language, we examined the affordances of various existing self-reflection activities. The School of Social Design's "Emotions to Values Worksheet" (2021) resonated with our goals, yet members of Plot Twisters did not connect with its highly verbal, structured, and individually-oriented approach to arriving at values. In our exploration of "values sensitive design approaches" (Friedman & Hendry, 2019), we found one method particularly interesting: "scenario co-creation cards," a 2020 design research project by Taghreed Alshehri, Reuben Kirkham, and Patrick Olivier for "[eliciting] values from people who may be in a power relationship that hinders directly discussing implicit values." Focusing on the relationship between Saudi Arabian women and digital media, the study emerged as a critical response to typical values sensitive design approaches, arguing they do not accurately identify the values of users before pre-supposing scenarios and ideas. Scenario co-creation cards are image-based, self-contained, and "enable non-linear progression and… comparisons and connections between different concepts" (Alshehri et al., 2020).
Scenario co-creation aligns with our definition of dialogue adopted from Freire (1970), so we have started prototyping a similar freeform card deck to introduce our language. Currently called the Plot Twisters Storytelling Cards, the deck contains 48 cards divided into four suits: Feelings, Needs, Strategies, and Structures. Though the cards of Alshehri et al. do not have text, our cards will use both visual and verbal shorthands to inspire meaning making.
Researching the suits
A variety of sources across trauma-informed relational strategies, cognitive science, and personality typologies and traditions influenced what we formalized. We found it very fun to traverse disciplines and were pleasantly surprised by the corrollaries. Avery noted, "from my experience, there's only so many ways to talk about how human regulatory processes work, and all the ways look similar."
Several members of Plot Twisters appreciated Marshall Rosenberg's Nonviolent Communication (1999), a language and collection of methods to communicate complex feelings in social environments.
In practice, Plot Twisters members combined concepts from Rosenberg's original texts and a version integrating transformative justice principles called Decolonizing Nonviolent Communication by healer-facilitator Meenadchi (2019). These works specifically informed shared labels for feelings, needs, trauma responses, and developing mutually beneficial strategies for care and accountability.
These strategies were further informed by the Routes of Safety by social worker Jake Ernst (2020). Similar to Gary Chapman's popular work The Five Love Languages (2009), the Routes of Safety focus on eight aspects of emotional safety to establish trust and security, especially with people who have experienced trauma.
Vervaeke's 4P3R theory of cognition illuminated four types of functional information processing. His breakdown of participatory knowing, perspectival knowing, procedural knowing, and propositional knowing influenced the suit categories that emerged (Vervaeke et al., 2012).
We discovered commonalities between Vervaeke's work and personality typologies that also broke down by facets of self into four categories. We specifically appreciated the comprehensive descriptions of Emotions, Physics, Volition, and Logic in Jungian frameworks like Attitudinal Psyche and Socionics.
Finally, several members noticed how the four suits we had emerged could also map to the Minor Arcana, or suit cards, in a traditional Tarot deck. In Tarot storytelling, the suits of Cups, Wands, Swords, and Disks represent domains of life to reflect on.
Suit-by-suit breakdown
Feelings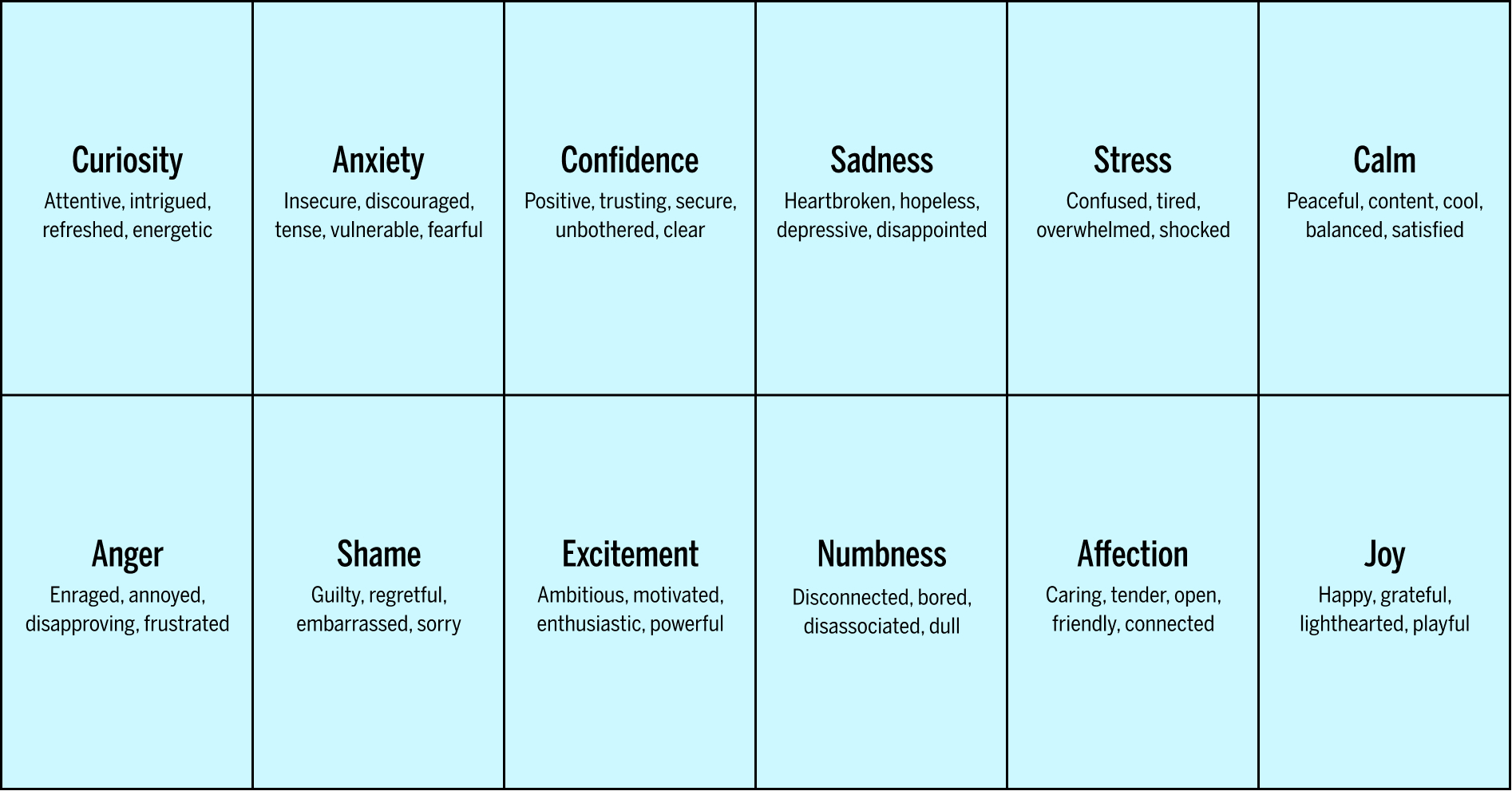 The Feelings suit represents ways by which our body signals how we feel. These cards encourage us to acknowledge our personal perspective and experiences, and recognize our emotions as a self-steering tool. We are reminded to accept our reactions, feel our feelings, and express our intuitions.
Needs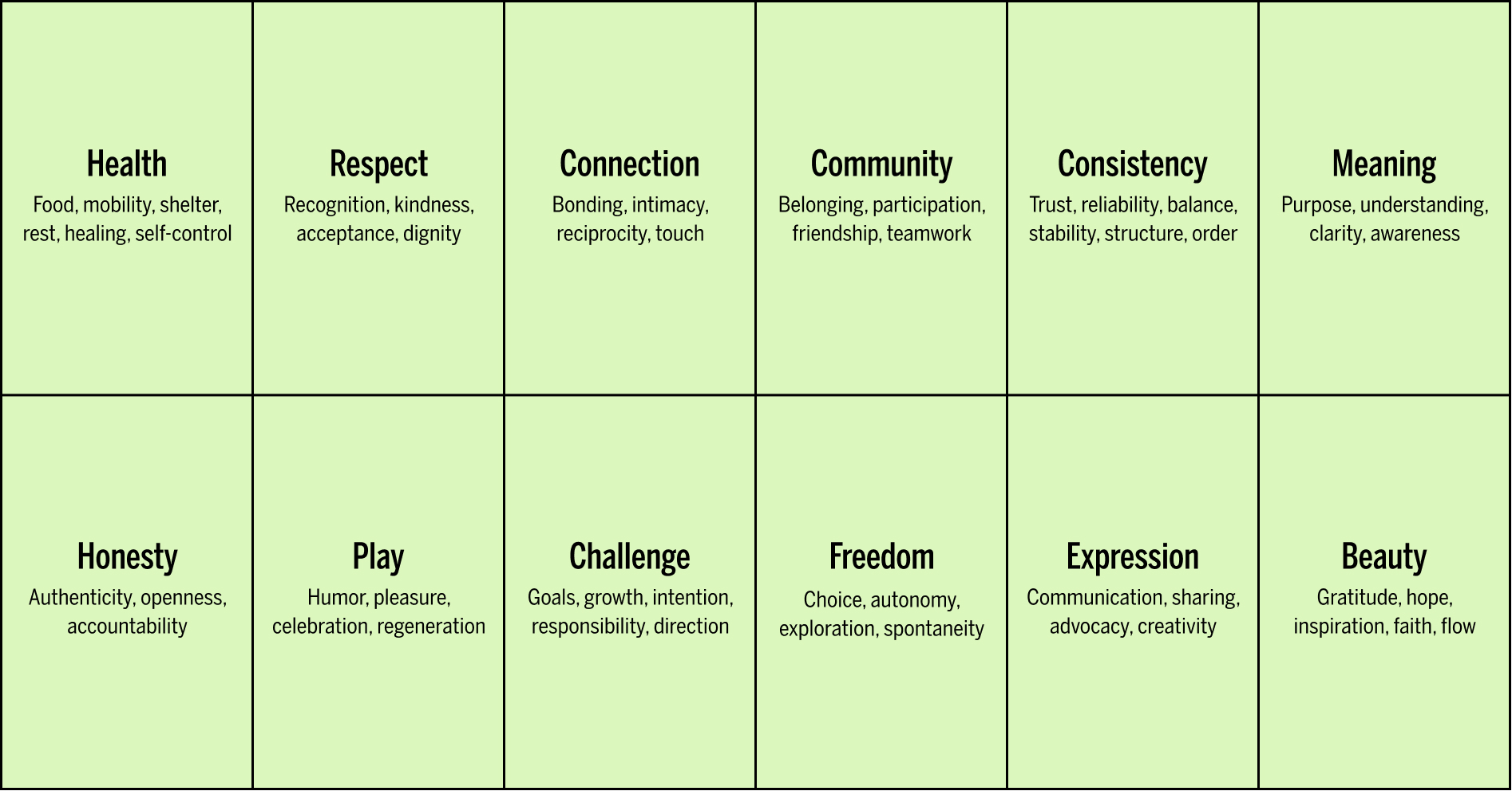 The Needs suit represents the things we seek for fulfillment and self-regulation. These cards support us to understand how we participate in the world, and how participation affects our energy, alignment, and spirit. We are empowered to tune into our intrinsic motivations and pursue what fulfills us.
Ways of Caring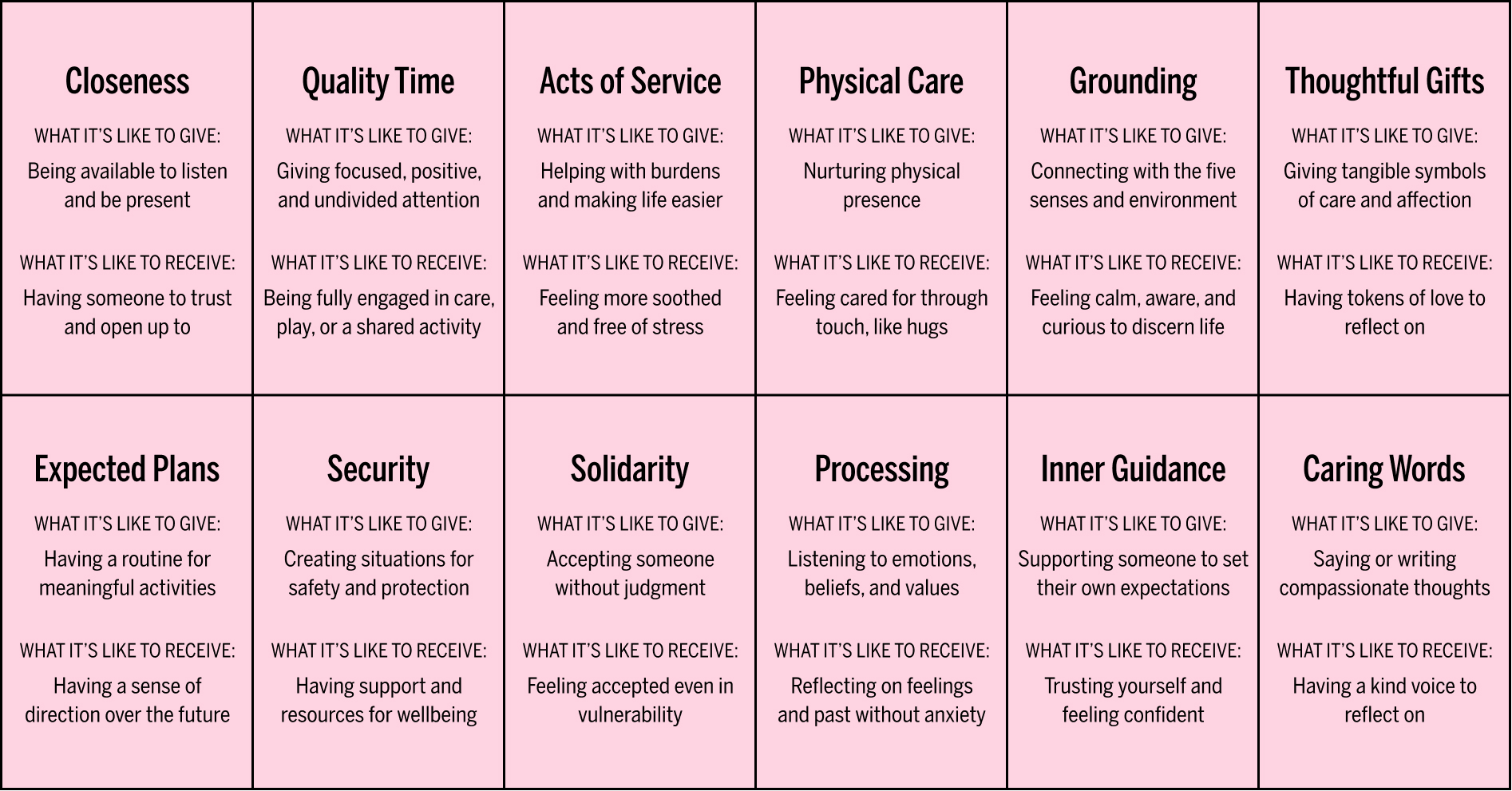 The Ways of Caring suit represents ways through which we give and receive love and nurture. These cards emphasize actions we do to care for both ourselves and other people. We are prompted to focus on how we manage our resources, support systems, and relationship to our environments.
Structures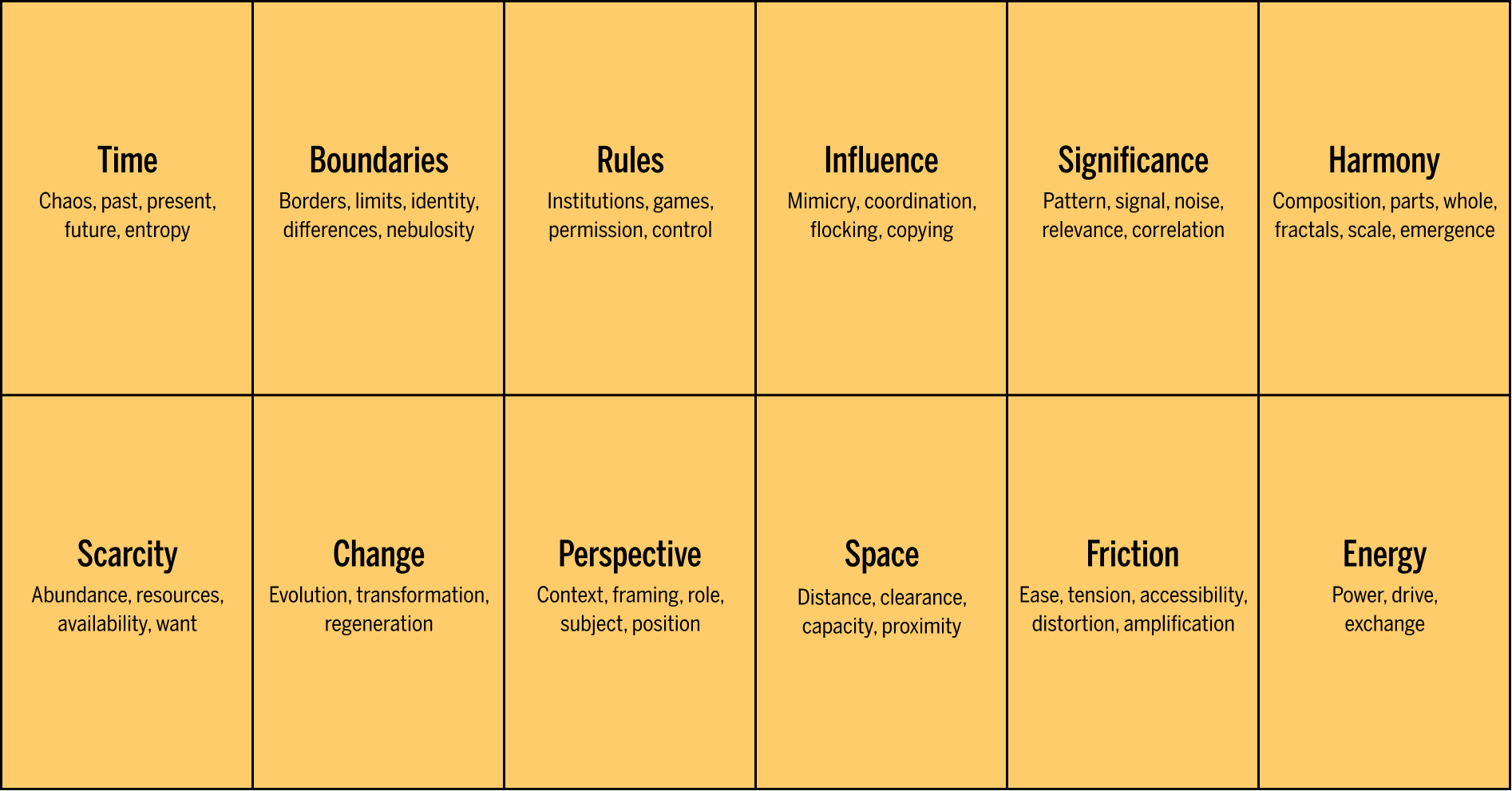 The Structures suit is still in progress, but will ultimately represent concepts that control how we exist and express ourselves. These cards ask us to reflect on the strategies, schemas, beliefs, and narratives we subscribe to, and how they benefit or limit us. We are encouraged to notice the conflicts in our lives and find ways to navigate them.
Card games
The cards could be used in an exercise to cultivate "we-ness" (Steinberg, 2004) and proactive accountability (Kaba et al., 2020) prior to making big decisions in the community. The cards could also be employed in a restorative or transformative conflict resolution practice to recognize and repair harm; its vocabulary may empower people to communicate their feelings and strategies for healing, and their needs and structures for accountability (Schoenebeck & Blackwell, 2021).
Specific games have emerged as we playtest within Plot Twisters, broadly using Storytelling Cards as flexible tools for rich personal storytelling. Members are free to explore any narrative that arises while still meaningfully using the taxonomy of the cards to convey meaning.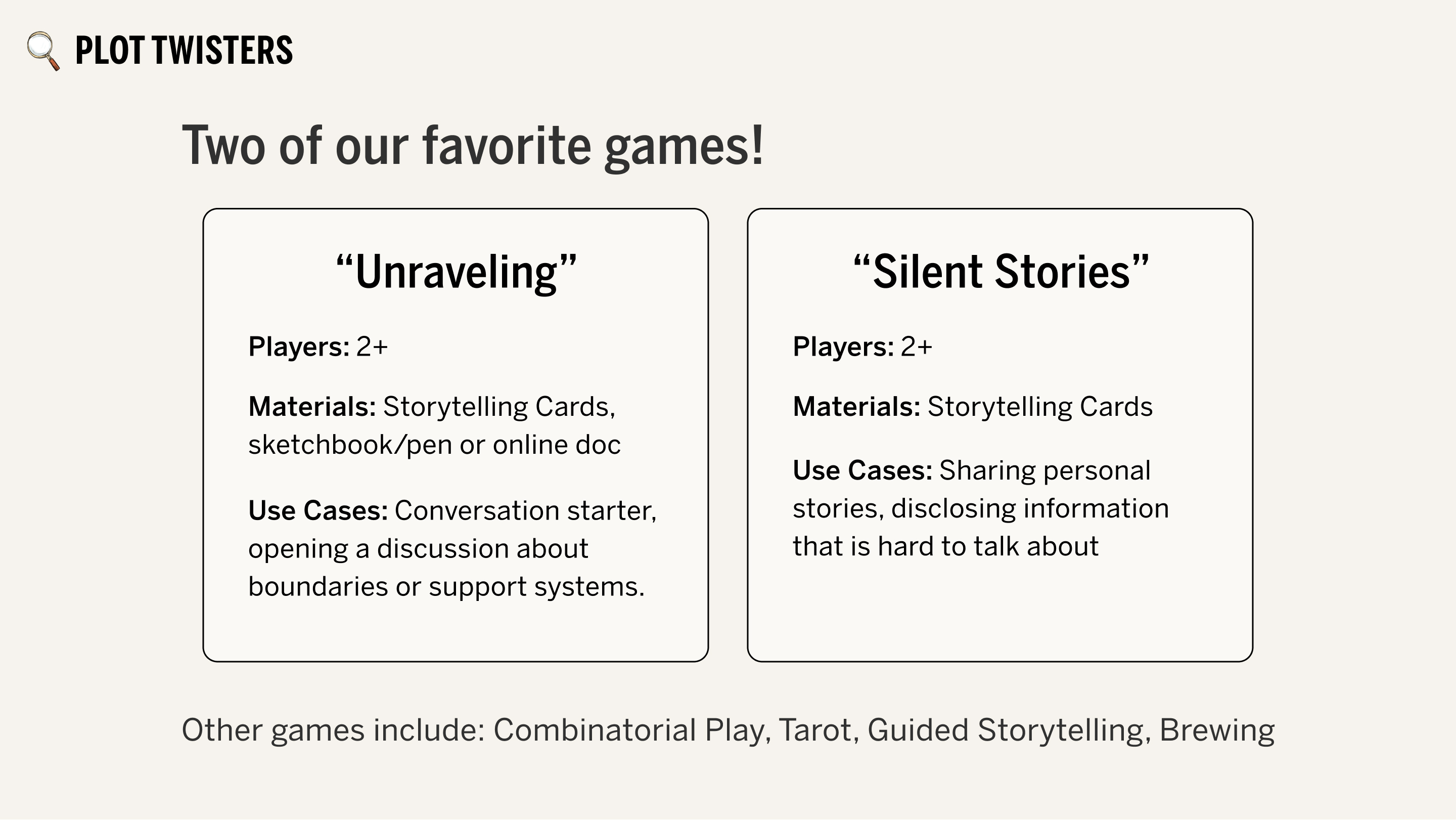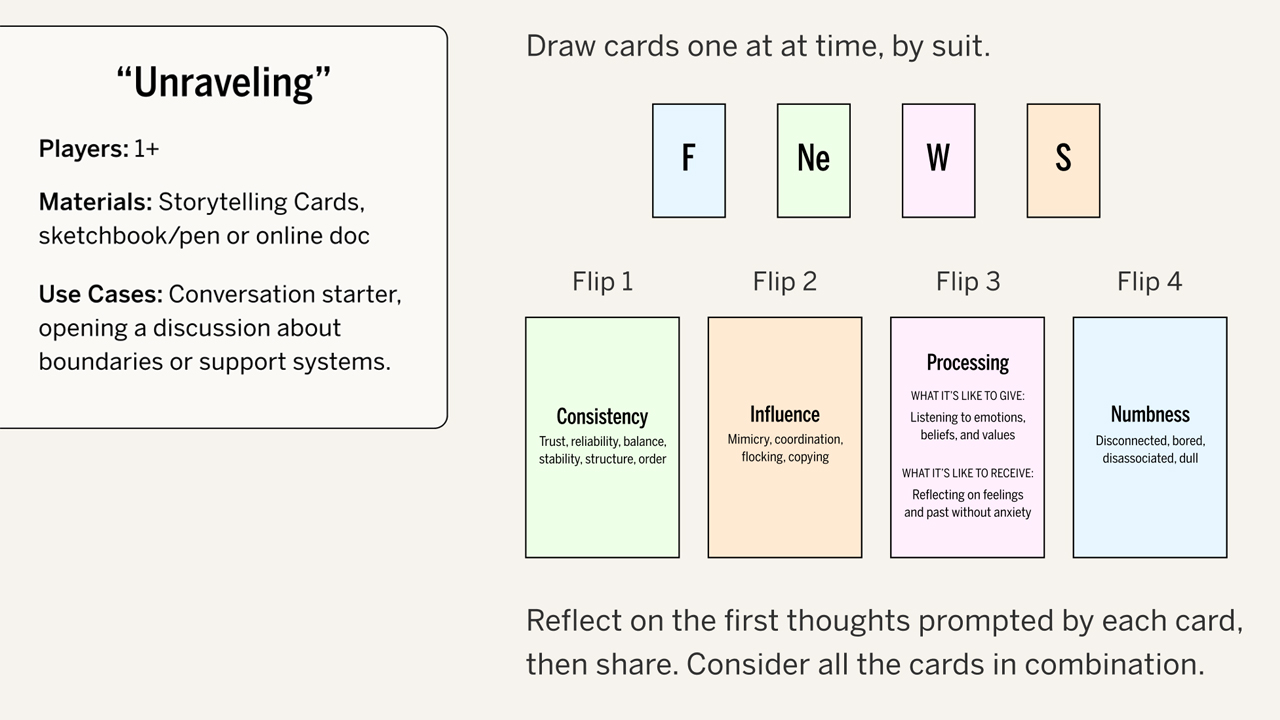 Our card gameplay is deeply informed by the works of fiction writer Italo Calvino. His lecture "Cybernetics and Ghosts" (1987) and novel Castle of Crossed Destinies (1973) illuminate the power of permutations and "combinatorial play" for artistic creation, which recalls the logic of "non-linear progression" of the scenario co-creation cards. By characterizing a discussion of values as a work of art, we further reinforced our definition of dialogue as an act of ongoing creation Our games all affirm Calvino's theory of storytelling as a cybernetic experience. Players draw cards from the deck, reflect on experiences recalled from the combination drawn, express their feelings, and articulate tangible expectations based on their feelings.
Games and freeform play can be an individual, one-to-one, or group activity. They can be used in journaling, opening challenging conversations, and facilitating community agreement workshops. Because they are essentially a language tool, they are excellent for generally aiding communication, whether synchronous or asynchronous, digital or analog.
What's next?
The Plot Twisters Storytelling Cards are one way to facilitate conversations about our lived experiences and the values we share, even though we come from different walks of life. Though we have codified the language through the cards, we are now exploring how the conversations generated can be sustainable and lead to mutually beneficial relationships. We believe that the decision-making process for consent and mutual care should be as open-ended as possible. However, establishing clear norms around one-to-one and group contract creation would ensure sustainable dialogue and accountability, similar to what K. A. McKercher proposes in co-design as a "duty of care" (McKercher, 2020).
Therefore, we are currently in the process of developing more games and storytelling scenarios, and plan to supplement them with Plot Twisters world-building and illustrations. From our experience, emotional communication is a potent program for self-organizing, building solidarity, and nurturing people's ability to advocate for their needs, and we are invested in a future where more communities view feelings not as nuisances but as crucial artifacts of life to curiously tend to. We are excited to share with you our upcoming "playbook" when it is ready.
References
Alshehri, T., Kirkham, R., & Olivier, P. (2020, April). Scenario co-creation cards: A culturally sensitive tool for eliciting values. In Proceedings of the 2020 CHI Conference on Human Factors in Computing Systems (pp. 1-14).
Calvino, I. (1973). The Castle of Crossed Destinies.
Calvino, I. (1987). The Uses of Literature: Essays. Houghton Mifflin Harcourt.
Chapman, G. (2009). The five love languages: How to express heartfelt commitment to your mate. Moody Publishers.
Ernst, J. (2020). Routes of Safety. Retrieved from https://www.mswjake.com/resources.
Freire, P. (1970). Pedagogy of the Oppressed.
Friedman, B., & Hendry, D. G. (2019). Value sensitive design: Shaping technology with moral imagination. MIT Press.
Kaba, M., Rice, J. D., Sultan, R. (2020). Uncaging Humanity: Rethinking Accountability in the Age of Abolition. Bitch Media (December 8, 2020).
McKercher, K. A. (2020). Beyond sticky notes. Doing co-design for Real: Mindsets, Methods, and Movements, 1st Edn. Sydney, NSW: Beyond Sticky Notes.
Rosenberg, M. B. (1999). Nonviolent Communication: A language of compassion. PuddleDancer Press.
Meenadchi. (2019). Decolonizing Non-Violent Communication. Co—Conspirator Press, Feminist Center for Creative Work.
Schoenebeck, S., & Blackwell, L. (2021). Reimagining Social Media Governance: Harm, Accountability, and Repair. Schoenebeck, Sarita and Blackwell, Lindsay. Reimagining Social Media Governance: Harm, Accountability, and Repair (July 29, 2021).
School of Social Design. (2021). Values-Based Social Design. Retrieved from https://www.notion.so/Values-Based-Social-Design-6397f7852775434982e363924d7e07e7.
Steinberg, D. M. (2004). The Mutual-aid Approach to Working with Groups: Helping People Help One Another. Routledge.
Vervaeke, J., Lillicrap, T. P., & Richards, B. A. (2012). Relevance realization and the emerging framework in cognitive science. Journal of Logic and Computation, 22(1), 79-99.