The EMPOWERhood is an on-going creation between Plot Twisters and The EMPOWER Lab at Georgia State University, beginning in late 2020. An example of embodied metaphor in digital therapy, the interface for this intervention was conceived, designed, illustrated, and coded by Jenny Liu Zhang, Cat Chang, Melissa Regalado, and Joanna Shan, with the collaboration of Dr. Metzger and her doctoral students at the University of Georgia and Georgia State University.
Currently, the team at The EMPOWER Lab is creating interactive video content for each of the pages. In late 2022 we intend to test the intervention package through focus groups both in-person and remotely. This case study will be edited for updates as they come.
Last edited January 8, 2022.
Partnering with The EMPOWER Lab
In June 2020, our team connected with Dr. Isha Metzger of The EMPOWER Lab at Georgia State University, a clinical psychology lab focusing on bringing trauma-focused cognitive-based therapy (TF-CBT) resources to Black youth in the U.S. Inspired to better understand the intersections of race, trauma, and mental wellbeing, we traded visual design, user experience (UX) design, illustration, and digital development services for a library of resources on TF-CBT. Through this collaboration we developed an in-depth understanding of its uses cross-culturally and its critiques. The product of our partnership was the EMPOWERhood, a virtual neighborhood where Black youth can find resources on TF-CBT to support their journey in coping and healing with race-based interpersonal trauma in their everyday lives. The live website is still in production, but we are excited to share the creative thinking underlying the intervention adaptation.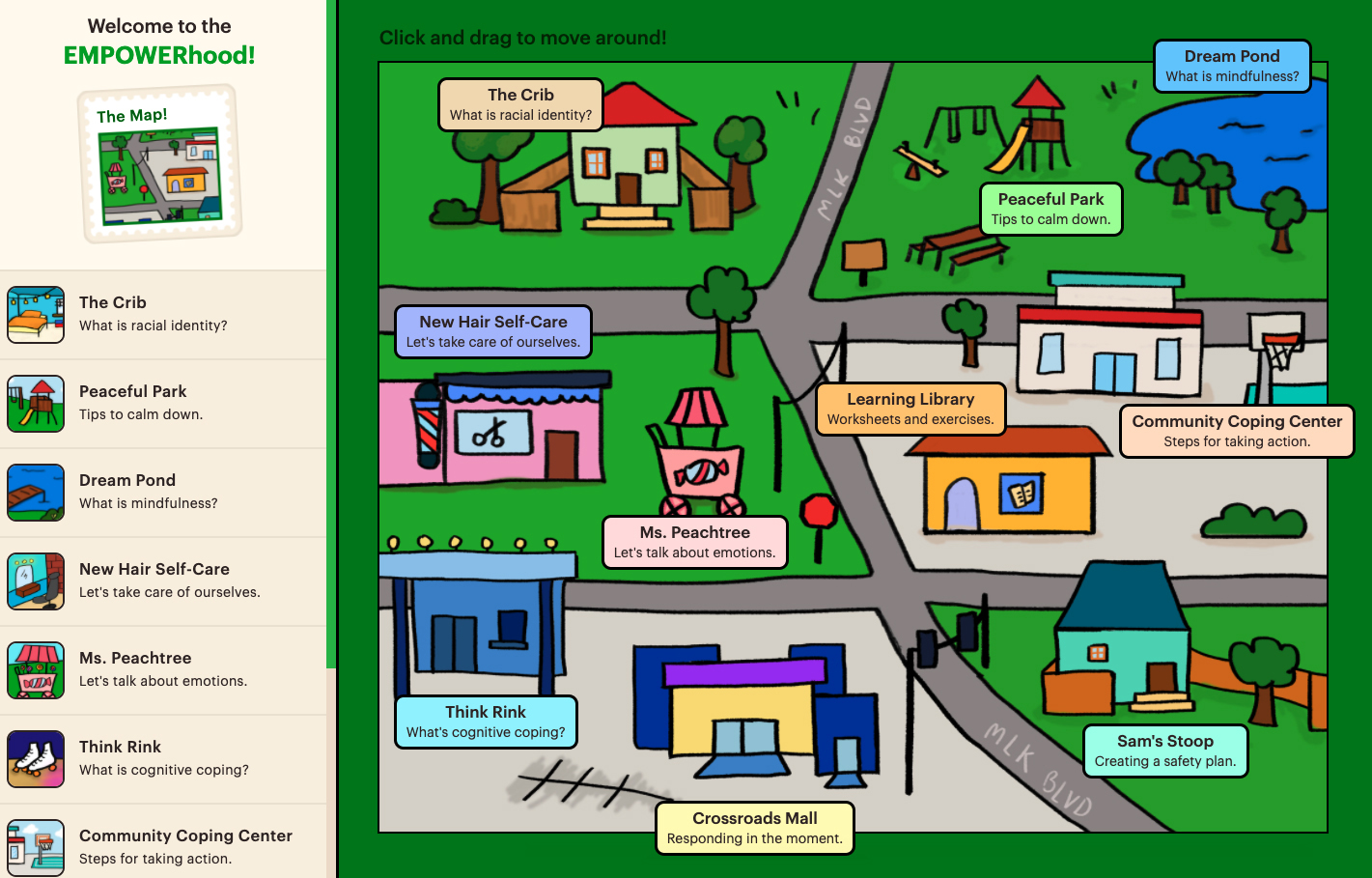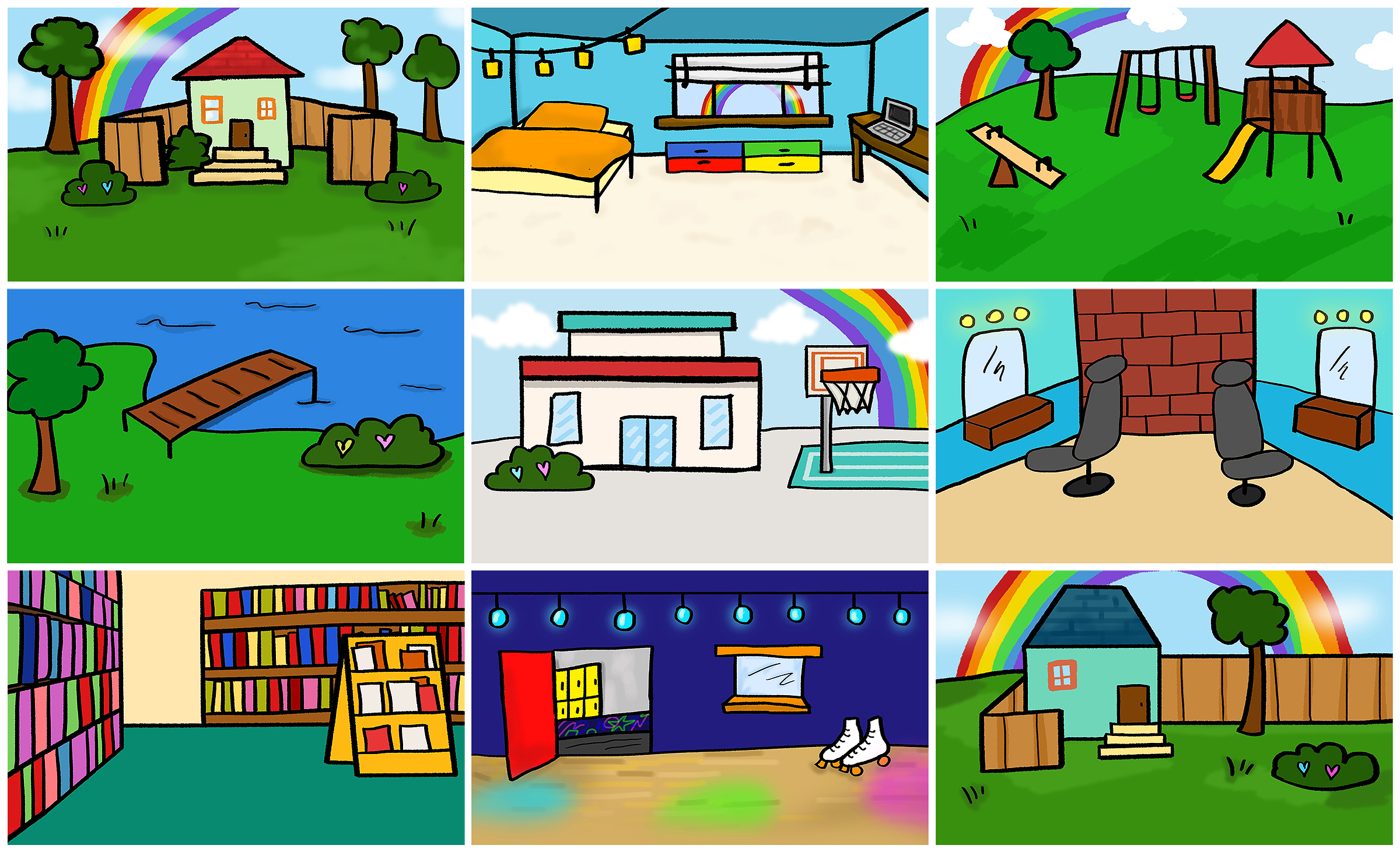 Prior to our partnership, the lab was already preparing video and text content for a "racial trauma care package:" they envisioned an online resource hub for Black and African-American youth with TF-CBT activities and frameworks to support the process of coping with race-based trauma. Jenny was introduced to Dr. Metzger by an advisor in June 2020, and the collaboration felt like a natural harmony of interests. The Plot Twisters team was beginning to think about how our game world could look and feel, diving into research on interactive narratives, games, and world building. Several of us were also immensely interested in trauma-focused therapy at large; the field is a direct application of personal storytelling and narrative building, and we were eager to learn. Meanwhile, The EMPOWER Lab was seeking support in designing and developing their vision, as well as advice on how elements of TF-CBT could be translated into an effective yet playful online intervention.
Literature review
We conducted a nontrivial literature review as a team to compile ideas across the TF-CBT evidence base. Stewarded by the EMPOWER Lab through bimonthly meetings, we generated summaries and high-level takeaways about the practice of TF-CBT:
TF-CBT emphasizes caregiver and family relationships (Cohen et al., 2018). In practice, facilitators will have to navigate social dynamics with their patient ad hoc. Many novel adaptations of TF-CBT have grown from creating context-specific methods for socialized therapy, like the Honoring Children, Mending the Circle (HC-MC) program developed for Native American and Alaska Native child trauma care (Bigfoot & Schmidt, 2010) and Dr. Metzger's program of TF-CBT combined with racial socialization therapy (Metzger et al., 2021).
Specific and practical applications of TF-CBT, especially for young people, focus on safety strategies, tailoring a patient's skills to address ongoing uncertainty about their situation; integrating past traumas into trauma narration to process the event(s); and deeply understanding the challenges of new relationships so they are more prepared to address how their roles and the roles of others may change. Especially for people experiencing continuous trauma, stabilization interventions to bypass harm are very useful. (Cohen & Mannarino, 2008; Murray et al., 2013)
Trauma is a public health concern and can emerge from multiple sources and changes based on age, health, and social and ecological factors. Trauma can commonly stem from negative social experiences, like parental anger, partner violence, and institutional neglect and mistreatment. It can manifest as violence and behavioral problems. (Lutzker & Merrick, 2012)
TF-CBT is increasingly distributed in diverse community settings, especially digitally. New models for distance learning, internet training, live training, phone consultations, learning collaborative models, and mixed-platform models grow popular across demographics, which inspires questions for Plot Twisters about designing for intimacy and trust online. (Cohen & Mannarino, 2008)
Furthermore, we participated in a 2-day clinical practice training with The EMPOWER Lab's doctoral students in racial socialization and TF-CBT, going through an overview of the ADAPT-ITT model (Wingood & DiClemente, 2008) which was employed to adapt practical strategies to a race-based lens. All of the therapy literature as well as the clinical methods informed our own approach to developing a high-quality interface; our intentions were to focus on feasibility and accessibility in conveying the therapy concepts, and to iterate on them in a multiphasal approach influenced by the ADAPT-ITT model.
Interface development
Tapping into the world-building exercises we had been practicing as a team, we were particularly inspired to execute cognitively associations of locations with lessons. We sought to build a world around distinct places and spaces for users to explore as a form of embodied metaphor. This was appealing because the age group we were designing for would be 24 years old and under, so a colorful digital experience could more effectively convey the challenging and complex topics of race and trauma narration. It also built on the idea that digital formats could afford TF-CBT strategies in ways that even in-person interventions may not, through visual interactions that could invoke a sense of game world immersion. In other words, users of the interface would process their own narratives within the narrative of the EMPOWERhood, making the therapy experience more memorable.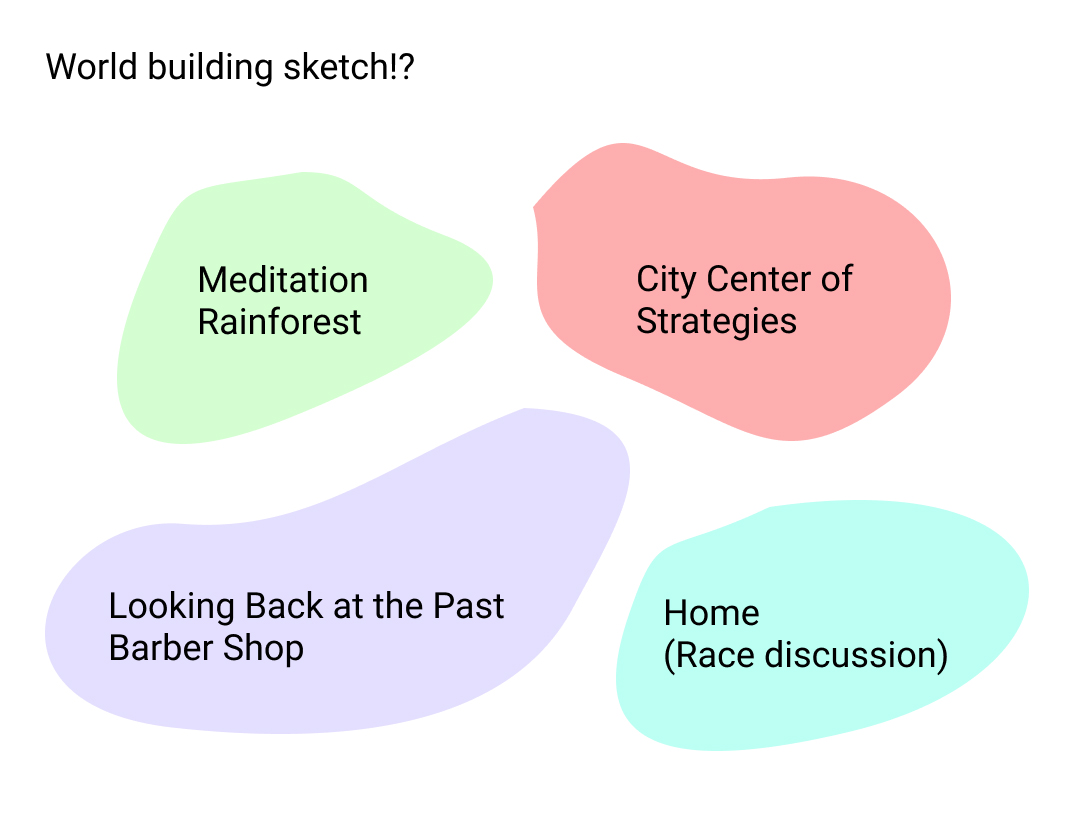 The EMPOWER lab also saw potential in this world-building idea. Because all of the researchers we worked with at The EMPOWER Lab researchers were Black with lived experience of race-based trauma, we felt comfortable asking them what setting aesthetic would best suit the intervention. The researchers proposed the idea of a calm yet exciting neighborhood inspired by popular parts of Atlanta, where many of them were originally from. They provided visual inspiration and some specific suggestions of locations and associations to prioritize, such as a barber/weave shop for learning about self-care and a basketball court to talk about taking action in social settings.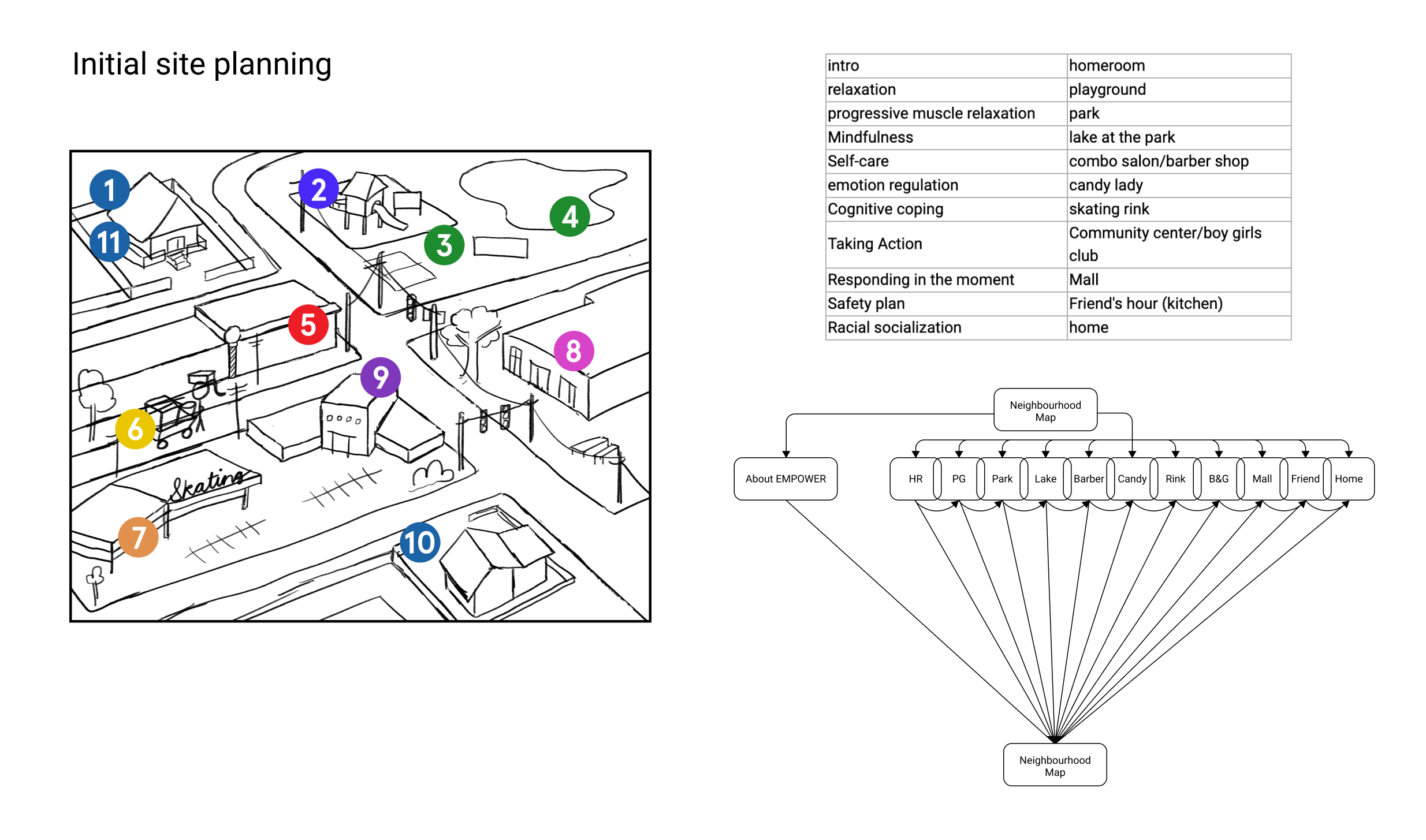 The EMPOWER Lab is in the process of creating 10 interactive video lessons to walk through resources about coping and healing from race-based trauma. The Plot Twisters team agreed to finalize 10 locations within the EMPOWERhood, one for each interactive lesson. We conducted desktop research to come up with the rest of the locations, getting feedback from the lab until we settled on ten locations with fictional names. Thereafter, Jenny, Melissa, and Joanna began the visual design and illustration process to complete the illustrations and world building.
"The Crib" — Racial identity
"Peaceful Park" — Progressive muscle relaxation
"Dream Pond" — Mindfulness
"New Hair Self-Care" — Self-care strategies
"Ms. Peachtree (Candy Lady)" — Emotional regulation
"Think Rink" — Thoughts, feelings, and behavior
"Community Coping Center" — Cognitive coping
"Crossroads Mall" — In vivo mastery
"Sam's Stoop" — Safety planning
"Learning Library" — Caregiver exercises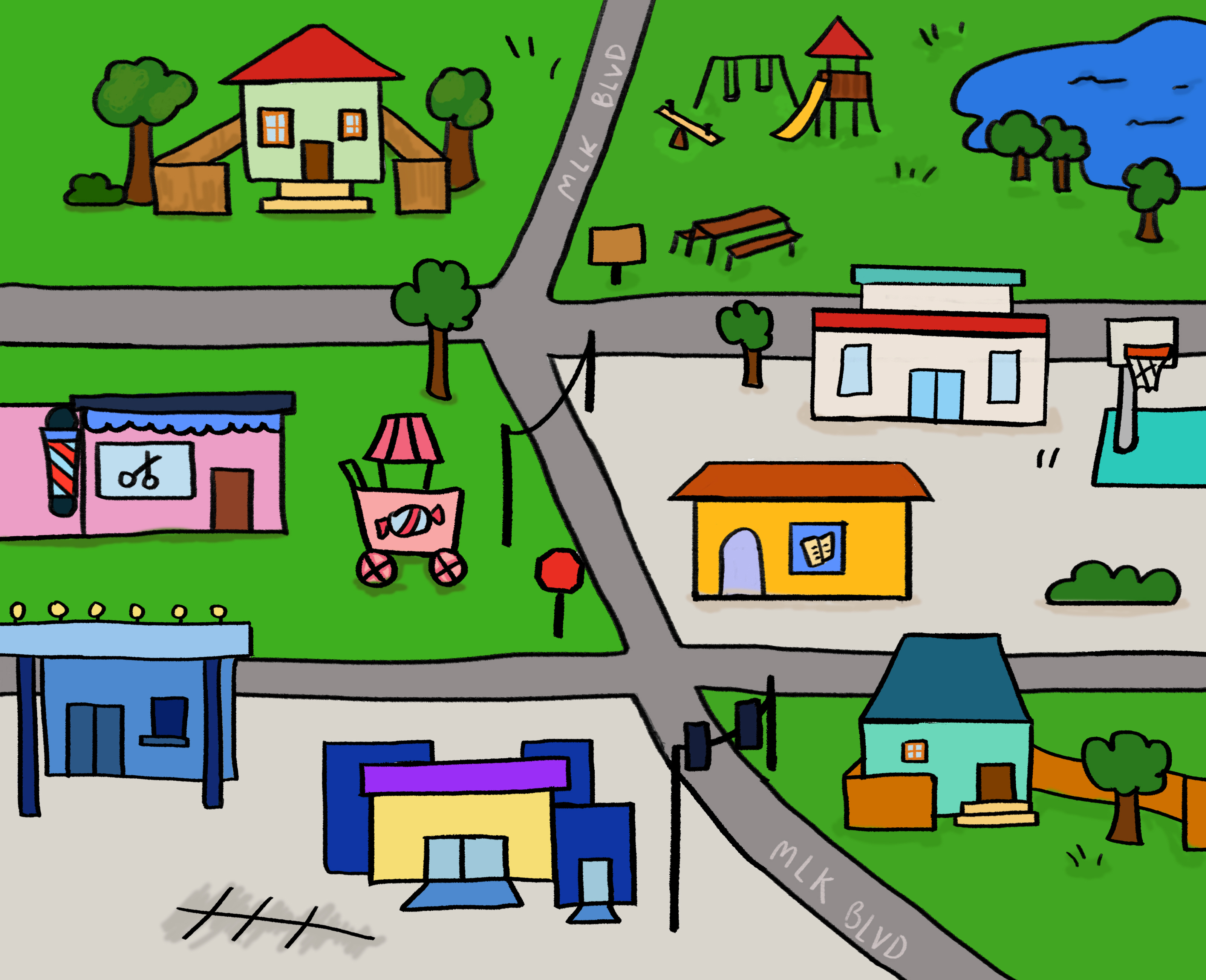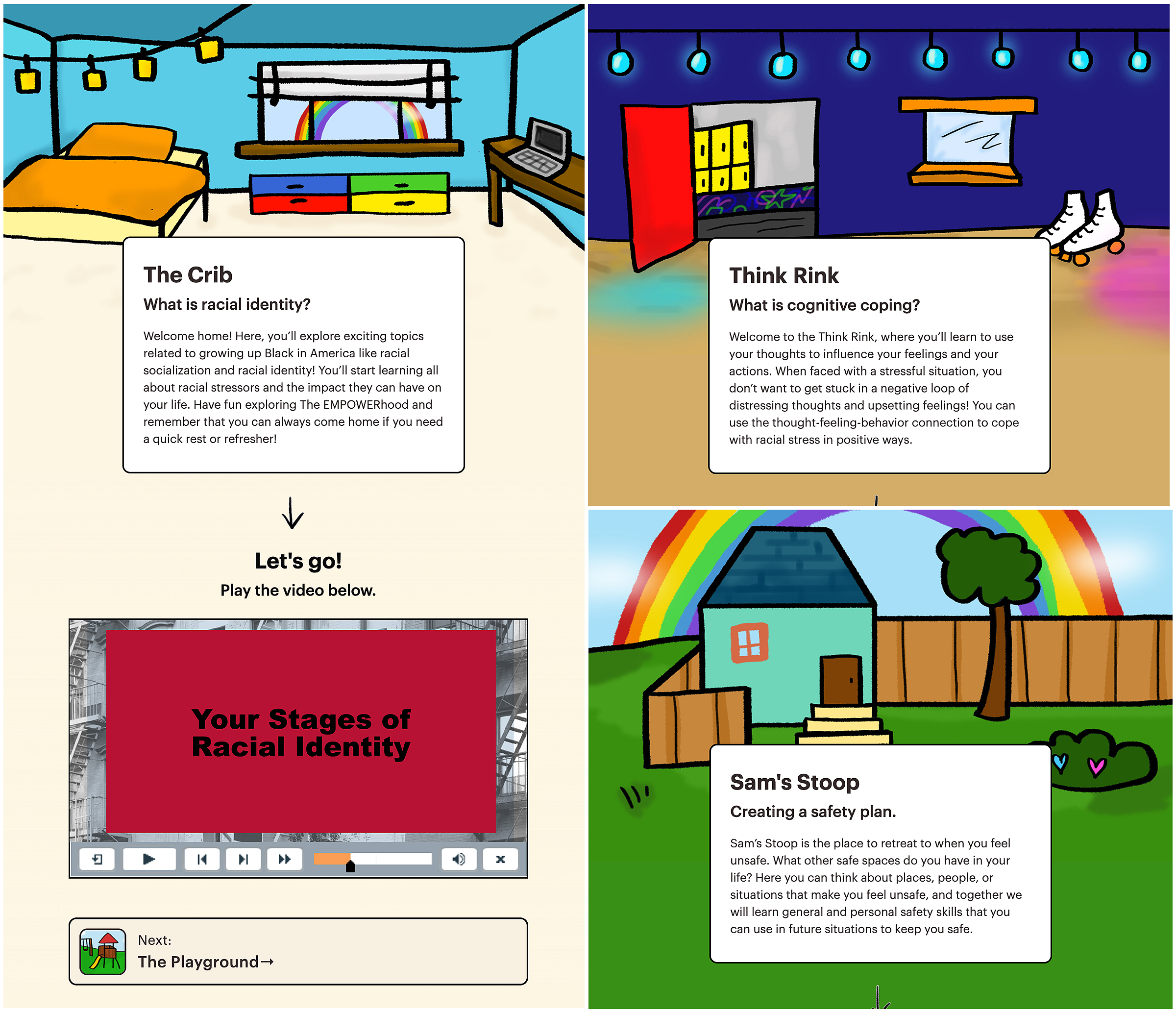 Next Steps
Over 2022, The EMPOWER Lab will film and polish all 10 interactive videos while we continue to flesh out the visual assets for the overall web and mobile experience. We are interested in developing a cast of characters and location-themed graphics to support the presentation of the TF-CBT strategies both in the videos and as static prompts throughout the website; conceptually, we will design for more embodied strategies in the interface, like visual character stories and soothing animations. Following the completion of the interactive content, The EMPOWER Lab and Plot Twisters will proceed with validating the intervention for usability and efficacy in small focus groups.
We are also on track to port some of these takeaways into a second project with The EMPOWER Lab: a mobile app for therapists to connect with their patients during a treatment session. Envisioned to support patients by providing an interface for the interpersonal connections involved with care, this mobile interface will further the goal of socialization with caregivers and nurturing secure relationships. We expect to jointly apply for public health and medical intervention grants through 2022 and 2023.
References
Bigfoot, D. S., & Schmidt, S. R. (2010). Honoring children, mending the circle: Cultural adaptation of trauma‐focused cognitive‐behavioral therapy for American Indian and Alaska Native children. Journal of clinical psychology, 66(8), 847-856.
Cohen, J. A., Deblinger, E., & Mannarino, A. P. (2018). Trauma-focused cognitive behavioral therapy for children and families. Psychotherapy Research, 28(1), 47-57.
Cohen, J., & Mannarino, A. P. (2008). Disseminating and implementing trauma-focused CBT in community settings. Trauma, Violence, & Abuse, 9(4), 214-226.
Cohen, J. A., & Mannarino, A. P. (2019). Trauma-focused cognitive behavioral therapy for childhood traumatic separation. Child abuse & neglect, 92, 179-195.
Lutzker, J. R., & Merrick, J. (2012). Applied public health: examining multifaceted social or ecological problems and child maltreatment. Nova Biomedical.
Metzger, I. W., Anderson, R. E., Are, F., & Ritchwood, T. (2021). Healing interpersonal and racial trauma: Integrating racial socialization into trauma-focused cognitive behavioral therapy for African American youth. Child Maltreatment, 26(1), 17-27.
Murray, L. K., Cohen, J. A., & Mannarino, A. P. (2013). Trauma-focused cognitive behavioral therapy for youth who experience continuous traumatic exposure. Peace and Conflict: Journal of Peace Psychology, 19(2), 180.
Wingood, G. M., & DiClemente, R. J. (2008). The ADAPT-ITT model: a novel method of adapting evidence-based HIV Interventions. JAIDS Journal of Acquired Immune Deficiency Syndromes, 47, S40-S46.