Poetic Justice is an upcoming project exploring the power of storytelling for accountability created by a group undergoing a community-driven justice process [unnamed for the purposes of this case study], with the support of digital restorative justice facilitator Jenny Liu Zhang.
The group started to gather the writing in 2020 and will continue to develop the project into 2022. They and Plot Twisters are working to publish the project online, as well as in a physical book.
This case study is being written by Jenny and will be updated as the project grows.
Last edited January 31, 2022.
Accountability through community-based storytelling
Accountability, or the process defining, ending, and taking responsibility for harm, is the goal of "obtaining justice." However, accountability is not always clear-cut because people are not always clear-cut. Nonetheless, many existing models for seeking accountability attempt to prescribe black-and-white solutions for conflict. For example, legal interventions are often driven by blanket punishments rather than context-specific strategies created by the people most affected by and involved in an instance of violence.
Mariame Kaba: "Accountability is an active process through which people have to make a decision that they recognize the harms that are occurring, they want to try to redress them, and they're thinking about the harms through the lens of what's been done to others but also what's been done to them. That's really challenging because everything in our culture is about coercion; dangling the idea of punishment is meant to keep you on the 'right path.'" (Kaba et al., 2020)
Punitive approaches, though they may scale and optimize for efficiency, do not always account for the gradient of the human experiences in a conflict, on any side. However, these accounts are literally key to defining long-term accountability in context. They also do not nourish the individuals' propensities to understand harm, respect, and healing on a personal level, which is crucial for prosocial behavior that is self-motivated and sustainable. Therefore, accountability achieved through justice structures that mark personal stories, needs, and values as inessential to a long-term collective narrative may not last, and the possibility and tolerance of harm may be doomed to repeat.
Storytelling practices are often found in alternative justice structures, including restorative justice or transformative justice. Restorative justice has roots in the 1970s as an alternative approach to "restore" situations back to previous conditions of peace prior to an instance of harm. Transformative justice is similar, though it emphasizes "transforming" the conditions rather than "restoring" them, to prevent the harm from happening again. These practices address harm by connecting people-being-harmed and harm-doers to create interventions and safety plans for healing from violence together, usually mediated by a facilitator (Saulnier & Sivasubramaniam, 2015; Nocella & Anthony, 2011; Creative Interventions, 2012; The Alternative Justices Project, 2021).
As a twist on a traditional restorative or transformative justice protocol, we describe Poetic Justice generally as a community-based accountability project that uses storytelling to recognize and redress harm. Led by a small group of practitioners and brought to life digitally by Plot Twisters, we are interested in how personal stories can change the mental and physical conditions of a collective, enabling all people living within them to learn and thrive. Poetic Justice will feature stories from people-being-harmed, harm-doers, and other people involved in an instance of harm, with the goal of storytelling being a way to document true experiences and a healing, therapeutic process in itself.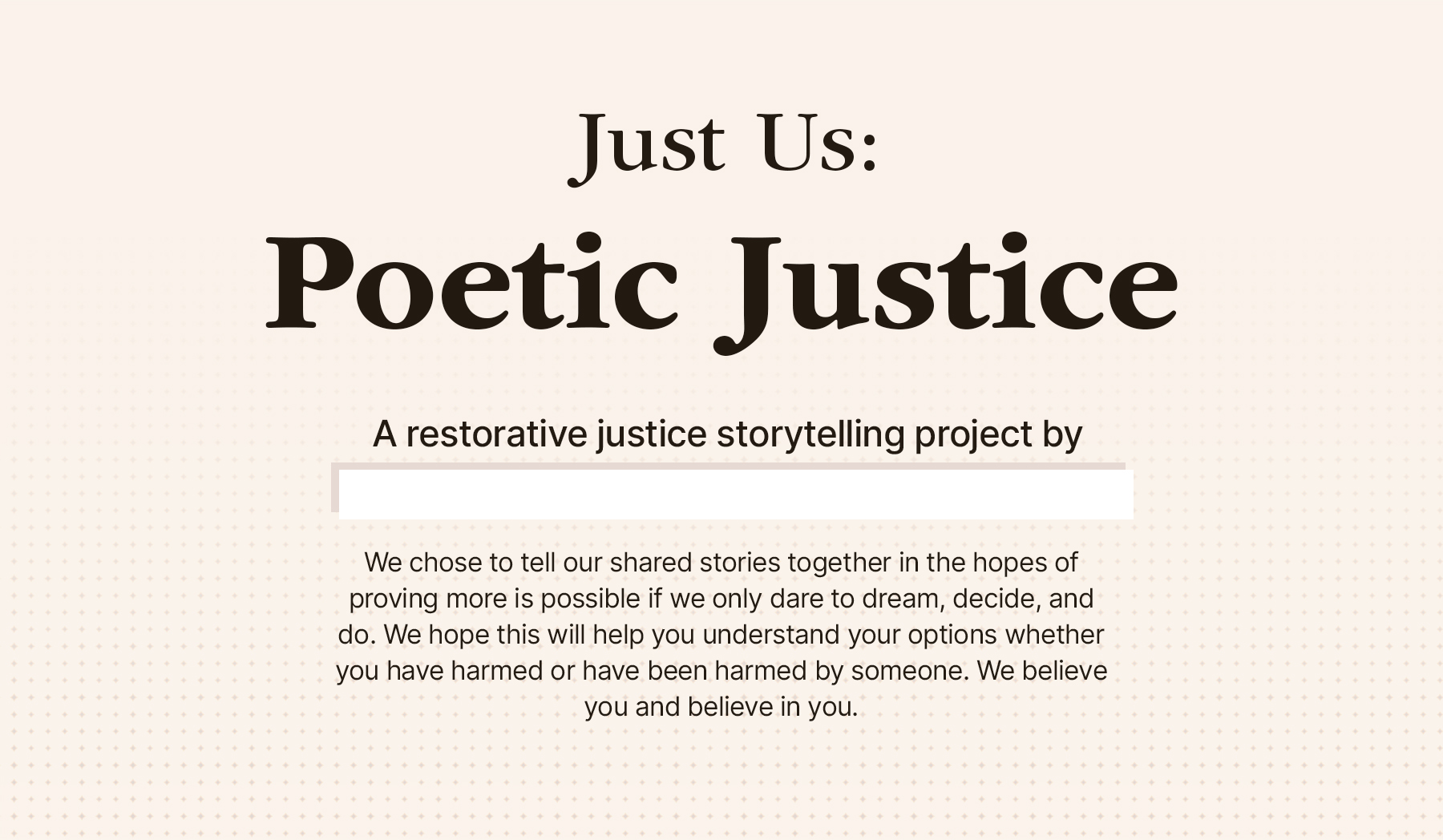 A platform for fostering empathy
Poetic Justice's first stories are personal reflections about instances of serious interpersonal conflicts. The project seeks to provide all people involved in a conflict, especially people being harmed, the platform to detail their accounts and emotions, then to weave the personal stories into a greater shared narrative to move toward accountability and healing. The stories are therefore often descriptive and serious. In the first release of Poetic Justice, to be published when stories from all participants are complete, one individual describes in long-form relationships with ex-friends and the harm they were experiencing at the time. Another person shares the detailed story of a traumatic experience and its aftermath, and how it shapes their understanding of their life journey.
These stories are Poetic Justice's vessel for fostering empathy. Practical applications of restorative and transformative justice foster empathy through mediators: mediators build trust with the involved individuals and often use therapeutic methods to draw self-awareness to cognitions and behaviors that block a person from understanding the experience of the other people. In Poetic Justice, the publication of stories is the mediator. As a long-form writing project organized and gathered asynchronously, storytelling is both the trust-building tool and the therapy method. By using digitally published stories to mediate a context-specific justice process, Poetic Justice argues that empathy is key to accountability. Storytelling can therefore be very intimate, but its intimacy makes it effective not just as a reactive intervention but as a coordinated prevention effort that can engender trust, forgiveness, and mutual understanding long-term. (Creative Interventions, 2012)
References
Creative Interventions. (2012). Creative Interventions Toolkit: A practical guide to stop interpersonal violence. Retrieved from https://www.creative-interventions.org/wp-content/uploads/2020/10/CI-Toolkit-Final-ENTIRE-Aug-2020-new-cover.pdf.
Kaba, M., Rice, J. D., Sultan, R. (2020). Uncaging Humanity: Rethinking Accountability in the Age of Abolition. Bitch Media (December 8, 2020).
Nocella, A. J., & Anthony, J. (2011). An overview of the history and theory of transformative justice. Peace & Conflict Review, 6(1), 1-10.
Saulnier, A., & Sivasubramaniam, D. (2015). Restorative justice: Underlying mechanisms and future directions. New Criminal Law Review, 18(4), 510-536.
The Alternative Justices Project. (2021). The Alternative Justices Project Handbook. Retrieved from https://docs.google.com/document/d/1ANtmGiJCeekY9uqHnXL423D1PZBdeGOTHGJHV0s1d9c/edit.